Tuesday, February 21, 2006
Freestyle Motorsports!!
Had been to the Freestyle Motorsports event held in our university arena a few days back. It was an awesome show with some of the best bikers from USA performing. I have managed to capture some pics and videos of the stunts and am presenting them below:
The stage is set
Some videos:
---
The guy in the above video performed some nice stunts of which I took some pics.
---
Here are some more videos:
This was one of the best performances with several 360 degree turns!!
For the best experience, be there to see it live!!
Friday, February 17, 2006
Mamoo!!
Was browsing through some files when I found this photo I had downloaded some time back, but had never posted it before..The police "seem" to be on a environment protection drive..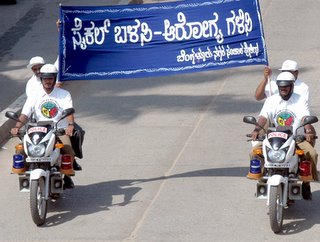 Translation: "Use cycles - gain health" - Bangalore city traffic police.
Well, they say, "Practice what you preach"..I guess the rule does not apply to the mamoos!! ;)
Wednesday, February 15, 2006
The rise and fall of Plaza cinema
If you are a Bangalorean, or lived in Bangalore even for a brief period of time, you obviously know what I am talking about. For others, Plaza is an old theatre complex on M.G.Road,in downtown Bangalore (closed now).
Why I am discussing this? Because, the location of Plaza will serve as a station for Bangalore Metro East-West corridor in the future. (Though the future is still far far away) and I am feeling both happy and sad. Anyway, the theatre was already closed and I believe a multiplex or a mall has opened there. Am I right guys?
The theatre premises used to be a venue for ball dances for English soldiers in 1930s. Later, it was converted to a movie theatre, screening mostly good movies first and later, only movies which sucked. No, I am not talking about B-grade movies, but basically, movies that sucked, not all, mind you. And I have been a victim of seeing only sad movies in this theatre. I dont know why, if ever a good movie was released, it was either exam time or it was already available on CD and I did not have enough money to watch it in the theatre. However, these movies were few in number. Some of the movies I remember watching in Plaza:
1)
Chal mere Bhai
- an insult to Hindi cinema and Sanjay Dutt, with routine acting by Salman Khan. This movie was "recommended" by Meghna who suffered first and then decided to turn sadistic for a while and wanted everyone else to suffer. I guess all the boys who came with me share my view.
2)
Shaft
- was that a movie? YUCK!
3)
Sleepy Hollow
- ok, this was not as bad as the 1st two, but still it was a comedy show of a horror movie, with Johhny Depp's acting the only saving grace. I can never forget the day we went to watch this movie. It was after internals and there was a large RV Gang on MG Road. Shailesh was with us and was all tensed up as one of his "girlfriends" had also turned up with her boyfriend and was sitting behind us, and this guy was getting lots of thoughts in his mind! ;)
4)
MI2
- Another movie which sucked, though it had good action. No more comments on this.
5)
Charlie's Angels
- Do I need to tell more?
6)
Hawas
- 'B' grade Hindi movie, no, it should be 'D' grade. Apart from Bhagat Singh, when 4 movies with same story opened at same time, this came along with Murder and had the same story, and both were desi versions of an English movie, starring Richard Gere (I have forgotten the name, I have seen that movie as well)
I have been to some more movies but I am not able to recollect them.
But, as a matter of fact, this theatre has also shown a lot of good movies and was very popular in Bangalore, but that was before I was born. Some of them are Ten Commandments, Gone With the Wind, Godfather, Indiana Jones series, An Officer and a Gentleman,and of late, Meet the Fockers.
One more thing about the theatre was that it sucked and it was one of the worst theatres in Bangalore.
Anyways, now that this movie theatre is no more, I am kinda happy. But, somewhere inside, there is a tinge of sadness as I feel that I am going to miss this theatre now. This was a place I came regularly only with friends most often and many times during college, this was our meeting point. (After college, the meeting pt. got moved to Barista, just a stone's throw away).
Now lets hope that the Metro project gets completed soon, so that the meeting point can be Plaza station!! :)
Friday, February 03, 2006
Unmaad 06..
was going through the e-paper when I noticed the event schedules for Unmaad-06, the annual IIMB fest and I was amazed!! Jethro Tull performing, Thermal and a quarter, the Pakistani band Jal, Sivamani, along with a host of other usual events!! and I am sitting here, missing the fest for the first time after last 2-3 years!! :((
people in bangalore, dont miss this given a chance...

Wednesday, February 01, 2006
Lose Control!!One more time
(I'm a rebel..)
na koi padne wala, na koi seekhne wala,
apni to paathshala, masti ki paathshala...

These are the 1st few lines of the song which is present in every desi's MP3 player nowadays...and if you are one of those rare kinds who hasn't heard of these 2 lines so far, it's from the movie "Rang De Basanti", the latest Indian blockbuster movie and surely, one of the greatest..

The movie was released in the US last Friday and some of us from UT decided to go to the movie on Saturday. Oh, BTW, it was released in Atlanta, which is the nearest place for watching the movie, approx. 215 miles from knoxville. I had never imagined before that i'll travel 215 miles to watch a Hindi movie in a theatre!!

Anyways, there were 12 of us who were going and we had a Cherokee jeep and a Kia SUV. The jeep was the smoking section and the SUV, the non-smoking. (well, almost..). We had planned to leave at around 9 AM but left at around 10.45 AM, with all due respects to IST. The plan was to have lunch in Minerva, a famous Desi restaurant in Atlanta and later watch the movie, and then come back the same day.

We made an auspicious start by putting the same song mentioned in the subject line first, followed by all the latest Hindi hits. The journey was fun, and we reached Atlanta at around 2.20 PM and we were in Minerva at around 2.45 PM. It was a little late for the buffet lunch, and the chat section was wiped out, but the other sections were still there and I started hogging. Ate Idlis, Dosas, Pooris, Naan and sabjis, Gobi Manchurian, kesari bhath, pulao and gulab jamoon. The non-veggies had many other options. By the time I ate the last jamoon, my stomach was ready to burst, but what the heck, it was an awesome lunch!! :)

After the lunch, we went searching for the theater. Finally managed to find the theater, Galaxy cinema, after a long search at around 4.45 PM. Went and bought tickets for the 6 PM show. Ticket price was $8 (cost of a black ticket in India! ;)). We had around an hour to kill time, so we went to Global Mall nearby. BTW, Global Mall is a complete Indian Mall. Went around roaming there, thought I'll buy some chats, my stomach refused to comg along as it was house-full and so I decided to ditch it...and by 5.45, we left that place and went back to the theater (this is a Desi theater BTW, it was running RDB, Zinda, Bluffmaster and some Mallu Mammooty movie).

The theater resembled Plaza cinema in Bangalore. The crowd was okay and the movie started on time (no ads, thankfully). Once it started, all of us were mesmerized! This is one awesome movie. i guess most of you would have seen this already, atleast in India, but those who havent should not miss this. Every one has acted superbly in a superbly narrated story, a very novel idea.

The 1st half has loads of fun and laughter with Aamir at his best and even Sharman Joshi (remember Style?). Once the 2nd half starts, the movie becomes more serious with a major twist and during this time, the movie stirs your soul. There is one scene in which Aamir weeps after the death of his friend. One example of terrific acting, and also an instance where you can put yourself in his place and feel the pain. The ending has a little unncessary stuff, but, if you ignore that, the movie overall can be termed top-class and can compete with any top movie throughtout the world. There is one song Roobaroo and the timing for that song is amazing!! Music by A.R.Rehman is also top-class with amazing songs, which go along with the movie without interrupting the flow. Don't miss the movie!

Some funny things during the movie..
The movie has English subtitles and during the song Lose Control, the subtitle read, "Loose control.."
aamir refers to a kid by "eh chhote" and at that time, the sub-title reads "eh short-stuff"!! :)

After the movie, there were major arguments about the ending, where one person liked it and one did not and argument went on for some time. By the time, we left the place, it was around 9.30 PM and so we decided to start driving back to knoxville and have dinner somewhere on the way. The journey back was all RDB, discussions, songs played over again and again and enjoyed everytime by everyone. Had dinner on the way in a Denny's and reached Knoxville at around 1.45- 2 AM.

Overall, had a fantastic day, super lunch, super movie. complete paisa wasool!! :)